Cheap Digital Cameras
Where to Find Them and
What to Look For!
Cheap digital cameras can be tons of fun...they're great for
snapping
quick shots and because they're so affordable you don't have to worry about
losing
them!
Most cheap digital cameras are really compact so you can easily carry them with you to capture those spontaneous moments.
Before you buy keep a few things in mind...
Decide what you want to do with it. Most digital cameras under $100 are good for sending pictures via email or looking at them on your computer. If you want to get any developed at your local photo shop you'll need to spend a little more (because you'll need one with 2 megapixels).



Look for one with a flash if you're going to take indoor shots.



You can get digital cameras for as low as $30 but it won't have a LCD to see your pictures right after you take them - and that's half the fun! You'll need to spend about $100 to get one.
A few digital cameras under $100 can take short digital video clips and be used as a webcam on your computer. Pretty good functionality for the price.

Sipix is a camera manufacturer that has a good selection of low priced digital cameras starting at $30. I found one for $99 dollars that has 1.3 megapixels (that'll get you decent looking pics on your PC), a flash and an LCD.
I even found one with 2.1 megapixels for under $125..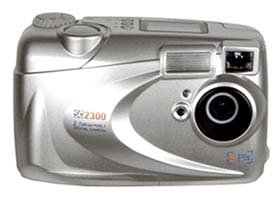 Click here to find more cheap digital cameras like this one at TigerDirect...
You can have a lot of
fun
with cheap digital cameras. Remember you're going to give up some quality with cheap digital cameras but you don't have to
spend
a lot to put some pictures up on an online photo album or website.
I also found some great places to purchase discount digital cameras. Click here to learn more. Or if you're looking for used and refurbished digital cameras check out more information here.




Things to Watch Out For
With Cheap Digital Cameras
Some low priced digital cameras can feel very cheap...imagine that! Make sure you're okay with this.
If want to get any of your pictures developed I found you'll need at least 2 megapixels. Anything less and you'll have to accept some fuzziness.

Some manufacturers will advertise a certain megapixel count, 1.3 for example. Be careful! Some of these cameras use 'interpolated' pixels... that means the camera adds in extra pixels by electronically guessing how they should fit into your picture...the true megapixel count may be much less. This process doesn't produce the sharpest images.

If it sounds too good to be true - it probably is....read the fine print and look for the 'effective' pixel count to be sure what you're getting.

Before you buy you may find it useful to know what you're NOT getting. You can compare cheap digital cameras to top digital cameras here.



One more tip....if you're looking for a high end digital camera (3 megapixels and up) and you find an online store with the absolute lowest price -- take time to get all the details.

Some retailers will strip the camera of the all the accessories to offer the lowest price and charge you for all the things that should be included! It's not too common but it does happen -- double check what you're getting when you buy.
Try to get a recommendation of an online store before you make any purchase.
After comparing online stores I found TigerDirect had the absolute largest selection of cheap digital cameras...starting as low as $19!


You can browse a full selection of cheap digital cameras here...

Overall, cheap digital cameras are lots of fun and with newer ones coming out all the time it's getting easier to find cheap digital cameras that will get you good pictures.






---
Here's Some More Information...
---
Check out recommended places to buy digital cameras...
Top 3 online stores to buy digital cameras. Each of these has good prices, great reviews and most importantly they are dependable retailers.
How to Find the Best Digital Camera - Home Page
Digital Camera Buyer's Guide and Tips...all you need to know about buying digital cameras in plain English.