Kids Digital Cameras
Kids digital cameras make perfect gifts. They're great for emailing pictures to
friends
and family and putting up some shots on a
website.
One of the best parts of kids digital cameras is not having to spend your money developing film! Choose the best shots and delete the rest.
This makes them great for taking on day trips, vacations and for playing with around the house.
Kids digital cameras typically have funky colors and look kinda cool but after doing some digging I found there's some things you should be aware of before you buy any kids digital cameras.



---

Things To Watch For...
1. Expandable Memory
This is important. If the kids digital camera doesn't have expandable memory you'll be limited to taking 15 or so pictures at a time (depending on the camera). If your kids go on a day trip or weekend adventure somewhere they may run out of room half way through! Not fun!
Look for the term 'expandable memory' or 'memory card' in the features list.
2. A Flash
This will help with taking indoor shots. With no flash your indoor pics will come out looking pretty dark.
3. A USB Connection
Look for a USB connection instead of a serial connection. Serial connections can be very slow when you start downloading the images to your computer. This can be rather painful if you have over 20 pictures or so.
4. Megapixels
If the kids digital camera has less than one megapixel expect to see some blurriness in the images....and they won't look very good printed out or developed at a photo shop. Remember to watch out for megapixels.




---

Let's take a look at a couple of Kids Digital Cameras...
I was surprised to learn that there aren't that many kids digital cameras available today...there were more a year ago. There's really only two very popular kids digital cameras:


1. Polaroid iZone




This kids digital camara is really two cameras in one. When you turn it one way it's an instant camera, printing out your pictures on postage size paper. If you flip it around it's a digital camera that can store about 15 images. With 0.3 megapixels you can expect some fuzziness in the pictures but it's definitely got a cool factor that's perfect for a young budding photographer.


2. JamCam by KBGear






JamCam is a very popular kids digital camera but the company - KBGear - seems to have gone out of business. You can still find these selling on eBay and many online stores....but I'd stay away. You won't find any software updates so it'll be difficult to use with newer computers.
If you do a little searching on the Internet you'll find tons of people having trouble making it work with Windows XP.

Samsung offers a translucent blue kids digital cameras but most retailers have stopped carrying them....not sure why, it's still on Samsung's website. I've found most online stores will now point you to their beginner cameras when you do a search for kids digital cameras.




---

Some thoughts on Kids Digital Cameras...
To be happy with kids digital cameras you should be comfortable with knowing that the quality of the pictures can be pretty bad.
You're going to get some fuzziness because most have 0.3 megapixels. If you're not too worried about this these cameras can still be fun... and the pictures will be okay for email and personal websites.
However, I'd recommend another approach. When looking for kids digital cameras you may want to check out beginner digital cameras instead. They can be pretty funky looking so kids will like them and they range from $30 to $100.
Take a look at this beginner Sipix Digital Camera, it's pretty cool...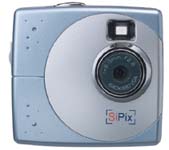 Click here to get the Sipix Blink II...


Beginner digital cameras can be perfectly suited for kids. They'll typically have:
1. Expandable memory, so your kids won't have to worry about running out of space. Double check this to be sure.
2. A flash for indoor shots.
3. USB connections for your computer instead of a serial one - for faster picture transfers.
4. Offer a choice of 0.3 to 1 megapixel.
5. Have additional features like 'movie mode' to record short digital movies (check to make sure it has audio).
And best of all they're pretty inexpensive ($30 - $100) so if it breaks after your kids run it over with their bike you can replace it without breaking the bank!! Beginner models may offer you the most bang for your buck when looking for kids digital cameras.

If you'd like more information about these types of digital cameras check out the Cheap Digital Cameras page on this site.






---
Here's Some More Information...
---
Check out recommended places to buy kids digital cameras...
Top 3 online stores to buy kids digital cameras. Each of these has good prices, great reviews and most importantly they are dependable retailers.
How to Find the Best Digital Camera - Home Page
Digital Camera Buyer's Guide and Tips...all you need to know about buying digital cameras in plain English.