Fuji Digital Cameras
Guide
Fuji digital cameras offer some great features and they won't break the bank. Fuji, or
FujiFilm
, is a well respected brand and has a wide variety to offer.
They must know what they're doing....in the past Fuji has introduced some of the fastest film technology and they were the first to come out with 35mm One-Time-Use camera with a built-in flash. Not bad.
Right now Fuji digital cameras don't lead the market with the most bells and whistles but they do offer some good value that's worth looking at...




Let's take a look at the different types of Fuji digital cameras
Fuji digital cameras have tons of different model numbers - there doesn't seem to be a standard approach to labeling.
After spending some time organizing them it became clear Fuji digital cameras are available in three general categories...by breaking them out this way it makes it easy to compare them to other manufacturers as well.

#1 Point & Shoot (Easy to use!)
The FinePix A Series (A200, A303 etc.) are designed for beginners. They range from two to three megapixels and have become very popular entry level Fuji digital cameras.
The next type of point and shoot Fuji digital cameras go by the names Fuji FinexPix model numbers 2650, 2800, and 3800. These are also fully automatic so they're easy to use. The zoom on these ones is pretty amazing...a couple of them have 6x optical zoom...pretty good for consumer grade point and shoot digital cameras.
Also, in this category are the compact Fuji digital cameras. The F401 and F410. Both can pretty much fit in your palm...they have a pretty unique design and are pretty popular compacts (two to three megapixels).
#2 High-End
There are two current high-end Fuji digital cameras...the S602 and the F700. Fuji doesn't seem to compete as aggressively in this category as other manufacturers - like Canon and Nikon - however the F700 is brand new and may be Fuji's attempt to make their mark here. The F700 has a whopping 6 megapixels...so it's definitely one to consider.
#3 Professional
The S1 Pro and S2 Pro are the professional grade Fuji digital cameras. The S2 is the latest. It's a Fuji digital camera that uses their Super CCD sensor...which means it can take the standard 6.1 megapixels and electronically produce even more - to get 12 million megapixels.
The S2 Fuji digital cameras have tons of shooting modes, exposure modes and nine modes for white balance! There's enough to play with here to keep you busy for a long time. Nice camera.






Some things you should know about Fuji digital cameras
First off Fuji digital cameras are referred to as 'FinePix'...so you'll always see models referred to as the Fuji FinePix 2800 or the Fuji FinePix A303.
This was a little confusing at first...I figured FinePix indicated one particular line of Fuji digital cameras...not all of them!! Thought you should know.
Some Fuji digital cameras are using their EVF - electronic viewfinder - instead of the more typical optical viewfinder you'll find almost everywhere else (a viewfinder is what you look through to take your picture). These can sometimes be difficult to get used to but do offer a more SLR like experience (SLR - what you see in the viewfinder is exactly what is taken by the camera).
Also, Fuji digital cameras are now starting to use XD memory cards instead of the older SmartMedia cards. They're really fast and these things are tiny! They're about half the size of the more popular CompactFlash cards used by Canon. CompactFlash is still more popular but XD is catching on...Olympus is now using XD memory cards as well.






Let's take a look at some of the hottest, most popular Fuji digital cameras
Fuji digital cameras will range from $200 for their beginner models all the way up to $599 for their latest high-end F700. The professional models go into the thousands.
When shopping for digital cameras you'll find you can save the most by buying online. Researching for this page I spent a lot of time checking out different online retailers. I found one that definitely stands out. Clicking on the links will take you to the Amazon.com page for that camera.
Amazon is by far the most reliable retailer with the best customer service I've used online. They also have great customer reviews for each camera that will give you some great insight before you buy. They're a big, reliable online retailer with good prices.


Fujifilm FinePix A303 (Beginner)
The FinePix A303 is designed with a beginner in mind. It's a 3 megapixel camera which is pretty impressive for this type - 2 megapixel cameras are more common in this range. It's small so it'll fit in your purse or in a pocket pretty easily which is handy and you can usually get it for a bit less than you'd spend on a compact Canon Digital Elph with the same number of megapixels.
There's a fully automatic mode as well as manual flash modes, shutter speeds and white balance settings if you'd like to tweak the camera to your needs. It's one of the first to use the new tiny XD memory cards.



Click here to get the Fuji A303...



Fujifilm FinePix F401 (Popular Compact Model)
The FinePix F401 compact is perfect for throwing in a bag or pocket. This one uses what they call a Super CCD Sensor which can make a 2 megapixel camera take 4 megapixel pictures...so for the money this looks like good value. Be aware that Fuji does this through 'electronically guessing' details to increase the pixel count. This doesn't always produce the sharpest image. Overall the reviews on this camera are excellent.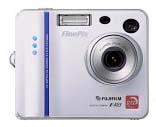 Check the price and read reviews of the Fuji F401 here...



Fujifilm FinePix 3800 (Consumer Model)
This is one of the Fuji digital cameras that has a ton of features for the money. Like many of the Fuji's this one uses an Electronic Viewfinder instead of the more typical optical one...it may take some getting used to. One of the things that really makes the 3800 stand out is it's 6x optical zoom - you'll find hardly any other manufacturers offering 6x zoom in this price range - 3x is more common.
The Finepix 3800 Fuji digital cameras have lot's of manual settings to go with their fully automatic mode...and it's one of the few Fuji digital cameras that has a movie mode that captures sound. Nice camera.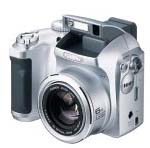 Click here to get the Finepix 3800 and read customer reviews...



After looking at a lot of websites - including Fuji's own home page - I found one page off Amazon's site that had the most complete list of Fuji digital cameras.

Click here to view a complete list of Fuji digital cameras - you can sort by price, compare features and read customer reviews...




Tips on Buying a Digital Camera
One Million Pixels = 1 Megapixel.  The more you have the sharper your image.  However, casual users don't need more than 2.1 Megapixels for good 5 x 7 inch prints.  If you need larger get more.
Watch out for digital zoom.  Optical zoom doesn't distort your picture in any way, digital zoom can.  Read the fine print.
Different manufacturers will use different types of memory cards.  CompactFlash and xD are two popular types.
Cheaper cameras may have a LCD or a typical viewfinder, but not both.  Get one with both.
Invest in rechargeable batteries or you'll be buying batteries pretty regularly.
3 types - Compact, Standard and Professional (slightly larger).
Read the computer requirements for the camera.  Check that you have an available USB or Serial port on your PC.
You can review the full 7 step Digital Camera Buyer's Guide here
---
Here's Some More Information...
---
Check out recommended places to buy Fuji digital cameras...
Best places to shop for digital cameras online. Each of these has good prices, great reviews and most importantly they are dependable retailers.
How to Find the Best Digital Camera
Return to the Digital Camera Buyer's Guide and Tips home page...all you need to know about buying digital cameras in plain English.