Canon Digital Cameras Guide
You'll always make a good choice with Canon digital cameras. They are some of the most
popular
digital cameras around today. You'll find they range from affordable, simple, point and shoot models to
ultra
high end Professional digital cameras.
When researching Canon for this site I came across an interesting piece of history....the company has been around since 1936! It was first known as "Kwanon" and started as a street side lab in Toyko. Wow!
I've owned a Canon Digital camera for some time now and love it. The quality of pictures is great, the camera is built well and it's easy to use. Canon digital cameras are trend setters with their funky styles...and they produce good looking pictures.




Let's take a look at the different types of Canon Digital Cameras:
Canon splits up its digital cameras into three categories:


#1 Point & Shoot
You'll get the most bang for your buck in this category. These Canon digital cameras are simple to use and produce quality images. They're fully automatic so you can just snap away...and if you want more control there's manual settings that you can play with. These Canon digital cameras go by the names Digital Elph or A70, A60, A40 etc.
They range from two to four megapixels and one of the best things about them is the movie mode that records sound too! Movie mode is great for taking short little clips and playing them back on your computer. Other manufacturers have movie mode but don't offer sound with it...Canon digital cameras lead the way with this. This isn't going to replace a video recorder but it's tons of fun.




#2 High-End
High-end Canon digital cameras are red hot sellers! They go by the names G2, G3 and S40, S45, S50. My friends who have the Canon s45 absolutely love it...some for the megapixel count (four) others for the cool metal look and amount of manual features it has. It's really easy to use, you slide open the lens cover and you're ready to shoot away.
The G3 has a swivel LCD screen so you can twist it around any way that works best for you. Kinda cool. The G-Series Canon digital cameras are practically professional grade...they have tons of manual controls.




#3 Professional Digital SLR
Okay, these are the big boys (or girls :). This category of Canon digital cameras has some awesome stuff to choose from. Canon refers to these as Professional Digital SLRs (EOS 1Ds, EOS 1D, EOS D60). These are for the serious hobbyist or professional photographer.
SLR stands for Single Lens Reflex (whatever you see in the viewfinder is exactly what is captured in your picture).
You can do almost anything with the EOS Canon digital cameras - add on an external Canon EF lens, play with tons of different exposure modes....there's a wide range of ISO settings so you can take pictures in almost any light. These Canon digital cameras are setting the bar for professional digital quality.






OK, let's take a peak at some of the Hottest selling Canon Digital Cameras



Canon digital cameras are some of the industry leaders. One of the best things about Canon digital cameras are the components they use - the image sensor and lenses are top notch. This is really important....a lot of manufacturers focus only on megapixels - it's the other components that play a big role in producing quality images. Canon has their act together.
There's a pretty large selection of Canon digital cameras to choose from - everything from beginner models to the ultra high-end 11 megapixel professional EOS models. The prices will range anywhere from $200 - $850 from most of the hottest sellers.
You'll find the most savings by shopping online. When deciding where to buy online try to get a recommendation of the retailer before you purchase. Amazon.com is one of safest places to buy Canon digital cameras. They always have the hottest sellers in stock, their prices are good and they have the absolute best customer service I've come across. I've always had a good experience with them.



Canon A60 Digital Camera (Beginner)
This is a beginner's digital camera...that will get you great looking pictures! The two megapixels in this camera produce high quality images. I've seen other two megapixel cameras from different manufacturers that can't match this Canon. If you're not sure where to start I'd consider this one...I'm always recommending it to my friends. The only thing missing is rechargeable batteries...you'll have to buy your own. Canon really should think about including them.




Click here to buy the Canon A60 at a good price...




Digital Elph S230 (Compact Consumer)
I don't think you'll find any more bang for your buck than with the Canon Digital Elph. It's ultra compact so you can pop it in your pocket, it has 2 or more megapixels so you get great digital pictures and the LCD is big and bright so you can see the screen easily. I've had mine for over a year....it's awesome! The only thing I would improve is the memory card, Canon only gives you an 8MB card to start, not enough to hold a day's worth of shots. Overall though, fantastic deal. I highly recommend it.



Buy the Elph S230 here...



Canon S45 Digital Camera (Popular High-End)
There was so much buzz about this camera before it was released you'd think it was part of a new pop band or something. The S45 Canon digital cameras have been best sellers right from the start. It has four megapixels so you can get enlargements right up to 11x14 inches and it has a ton of manual settings. Things like exposure and focus bracketing, manual focus, and shutter-speed priority will make even the most serious hobbyist a happy camper!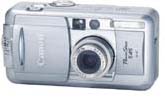 Click here to buy the Canon Powershot S45 at Amazon.com...




Canon G3 (High End)
This Canon G3 is probably the closest thing you can get to a professional digital camera without spending thousands of dollars. It has four megapixels for super crisp pictures and comes with 4x optical zoom. One of the most popular things about this camera is the amount of manual controls it has - there is a fully automatic mode as well - which is good because it'll take you months to go through all the manual settings. If you're looking for complete control over your picture taking this is the way to go.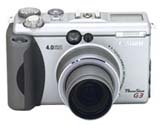 You can buy the Canon G3 online here...




Canon Digital Camera Recommendation
If you're looking to take some great pictures and share them with friends and family via email or on a website the Canon Digital Elph is my pick. It easy to carry around and you'll still get quality pictures that you can get developed if you choose.
If you like manual settings and want a good selection of features I'd go with the S40 Canon digital camera...because the S45 is now available the Canon S40 has dropped in price, great deal!
When buying Canon digital cameras it's handy to do comparisons. After a lot of searching my favorite place for doing this is the bestsellers page off Amazon.com - they have some of the best prices too...

Click here for a great list of the best selling Canon Digital Cameras - compare models, sort by price and read customer reviews...





Tips on Buying a Digital Camera
One Million Pixels = 1 Megapixel.  The more you have the sharper your image.  However, casual users don't need more than 2.1 Megapixels for good 5 x 7 inch prints.  If you need larger get more.
Watch out for digital zoom.  Optical zoom doesn't distort your picture in any way, digital zoom can.  Read the fine print.
Different manufacturers will use different types of memory cards.  CompactFlash and xD are two popular types.
Cheaper cameras may have a LCD or a typical viewfinder, but not both.  Get one with both.
Invest in rechargeable batteries or you'll be buying batteries pretty regularly.
3 types - Compact, Standard and Professional (slightly larger).
Read the computer requirements for the camera.  Check that you have an available USB or Serial port on your PC.
You can review the full 7 step Digital Camera Buyer's Guide here
---
Here's Some More Information...
---
Check out recommended places to buy Canon digital cameras...
Best places to buy Canon digital cameras online. Each of these has good prices, great reviews and most importantly they are dependable retailers.
How to Find the Best Digital Camera
Return to the Digital Camera Buyer's Guide and Tips Home Page...all you need to know about buying digital cameras in plain English.