Choosing the
Best Photo Printer
Getting the best photo printer can be a perfect companion to your digital camera. New photo
printers
give you professional looking results....for a decent price.
These printers are designed with photos in mind.... unlike regular inkjet printers. I was blown away by how good pictures can turn out. The color and detail is amazing. You can produce professional looking results right from your computer.
The photo printer market is very very competitive. Manufacturers are offering low prices and great rebates to get you using their technology. There's a good reason for this...
They don't make much money on the up front cost of the printer. You can get a great printer for under $200. It's the ink refills and the photo paper where they really make their cash.
So if you're planning to do a lot of printing keep this in mind. You can go through ink and paper pretty quickly with even the best photo printer.




Tips for Finding the Best Photo Printer
Digital cameras with 2 megapixels or more will capture enough information to produce some stunning results when printed.
A key to getting the best possible picture is to ensure your camera is set to use the highest resolution and....make sure your printer is set to the top quality. Pretty basic stuff that is easily overlooked.
Here's some things to look for when selecting the best photo printer:


1. Resolution or DPI (dots per inch)
The resolution of printers are measured in dpi....which is the amount of little dots a printer can place in one square inch. Most photo printers have a maximum color resolution of 2400 x 1200 dpi and the best photo printers have 4800 x 1200 dpi.
I've looked at 3 megapixel pictures printed off a Canon S820 with 2400 x 1200 dpi. The pictures were fantastic! Amazing detail and color....there's no way I could tell they were not professionally developed. Even the most serious camera hobbyist will love a photo printer like this one.


2. Number of Ink Tanks
Inkjet printers typically use three colors for color printing. A photo printer will use six. You may want to choose a photo printer with individual ink tanks....this will keep costs down because you'll only have to replace individual ink cartridges as they run out. The best photo printers will have individual tanks that may cost a bit more but you'll save in the long run.
Shop around for the price of ink tank refills before you decide on the best photo printer for you.


3. Photo Paper
You can choose from a good selection of photo paper...bright white, glossy, matte, transparent, magnetic etc.. Typically a photo printer will work best with paper from the same manufacturer.
So if you buy a Canon and want to use Kodak paper the results may not be as good as if you use Canon paper. The best photo printer will be designed to work with it's own paper. There are exceptions but this is generally the rule.


4. Extra Features
When shopping for the best photo printer there's a few extra features that may come in handy. A popular one is an extra USB port on the printer. This makes it easy to connect your camera directly to the photo printer for printing off some images....you can skip using your computer altogether.
Another cool add-on is memory card slots directly on the printer. This allows you to plug a memory card directly into the photo printer. Usually the best photo printer with this option will come with a little preview screen or even a full color LCD to view your images. Pretty cool!
One more note....most printers won't ship with a USB cable for your computer and they can be pretty expensive. You can find some great deals on the Internet. I did a search for 'usb printer cables' in Google and found some pretty good prices.




The Best Photo Printer...
You'll find the best photo printer from HP, Epson or Canon. There are several other brands out there but these three definitely stand out.
The links above each photo printer will take you to the online retailer with the best price and service. For photo printers Amazon is very reliable, has great customer service and has good prices.
Let's take a look at my pick for the best photo printer from each manufacturer...



Canon i950 Photo Printer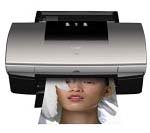 This thing will get you some sharp looking pics....even serious hobbyists won't be able to tell the results were from a home printer. The maximum color resolution is 4800 x 1200 dpi and it has six individual ink tanks. It will print full 8 x 10 inch pictures quickly and it's very quiet. Remember to use Canon's photo paper for the best photo printer results.



Epson Stylus Photo 960 Inkjet Printer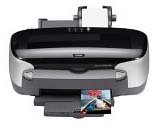 This is the first photo printer to have 2 picoliter ink droplets. Picoliters are how the inkjet industry measure ink droplet sizes. The lower the number the smaller the droplets....3,4,5 and higher are common. The resolution is 2880 x 1440 dpi. You can definitely print off professional looking pictures, brochures etc. with this Epson.



HP PhotoSmart 7550 Inkjet Printer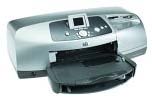 This HP model has all the bells and whistles! You can preview pictures right on this printer using the little LCD. It comes in handy because you can print directly off your memory card with this HP photo printer as well. There's slots for CompactFlash, Secure Digital, Multimedia, Smartmedia and the Sony Memory Stick. It uses a 7-ink system....that's the most I've seen. This is HP's best photo printer.




Other Options and Recommendations
Before you find the best photo printer it's worth investigating your other options. Some of the newest regular inkjet printers have a high enough resolution to print very good looking photos. I've seen pictures from a regular inkjet Canon S520 which has 2,400 x 1,200 dpi and the pictures look great.
Regular inkjets will also print plain text a little crisper than the best photo printer. So they're a better multi purpose option. You'll save about $100 as well....so it's definitely worth thinking about.
Also, another option is taking your pictures to a local photo shop. Most will let you drop off your memory card and they'll have them developed the next day. You're looking at about 35 cents or less per 4 x 6 inch picture. After adding up the cost of ink cartridges and paper for the best photo printer this may be the most cost effective approach.
However, there's nothing like instant gratification! So if you want to adjust your pictures at home and print them off a photo printer is the way to go. My pick for the best photo printer is the Canon i950...good price, fast, quiet and great results.

Here's a list of the top sellers at Amazon.com (remember to read the customer reviews!)...

Good luck with your search for the best photo printer....I hope this information was helpful!







---
More Information...
---
Check out Recommended Places to Buy the Best Photo Printers Online...
Top 3 online stores to buy digital cameras and the best photo printer. Each of these has good prices, selection and most importantly they are dependable retailers.
How to Find the Best Digital Camera - Home Page
Digital Camera Buyer's Guide and Tips...all you need to know about buying digital cameras in plain English.