Buying a Photo Lens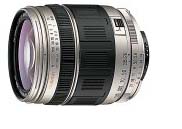 The photo lens that's part of your camera will play a big role in your satisfaction with your purchase. You could have all the megapixels in the world and you won't be happy with your pictures if you have a bad lens. A poor quality lens will get you a poor quality picture!
The top brands (Canon, Nikon, Sony, Fuji, Olympus etc.) all have good lenses for the casual user taking pictures at family gatherings and on vacations - that covers about 90% of us!
Until recently you'd find a plastic photo lens in many digital cameras. Over the last few years the technology has become good enough that most digital cameras now have a better quality glass photo lens instead.



Wide Angle or Telephoto
If you're looking for more flexibility to take some landscape, portrait or group shots you may be interested in adding on an accessory photo lens to your camera. A wide angle lens will let you see a wider field of view and a telephoto lens will make things look much closer.
A wide angle lens can be perfect for taking pictures of scenic views (this will save you walking miles away so you can fit in a great shot!). A telephoto lens can be useful when you want to zoom in close to get some detail from far away....so the field of view is much narrower with a telephoto lens.



Zoom and Macro Photo Lenses
A Zoom photo lens will give you to have multiple focal lengths. You'll be able to take very different types of photos....zooming in and out as needed.
Remember when looking at a digital photo lens to give higher marks to optical zoom instead of digital zoom. Optical will give you sharper results.
For extreme close up shots you'll want a macro lens. These are perfect for taking pictures of the tiniest of things...they're popular for snapping shots of flowers up close.



Photo Lens Tip...
Check that your camera can handle these accessory lenses and make sure you buy the right one. A regular film camera accessory lens may not work on your digital camera....read the specs carefully before you buy any add-on photo lens.
Recommended places to buy photo lenses online...
It's surprising how difficult it is to find a good supply of photo lenses online - both for digital and film cameras.
There's really only one store that offers lenses for almost any camera...digital or film. The winner for best photo lens selection - Ritz Camera. They have the largest selection by far...

Click here to buy a photo lens online at Ritz Camera...
I also found a decent supply at Amazon.com...

Click here to browse different photo lens brands and check prices at Amazon...


---
Here's Some More Information...
---
Return from this Photo Lens page to the Digital Camera Buyer's Guide...
You'll find some good tips for buying digital cameras and it's all in plain English. It covers what to look for and what to watch out for when looking to buy digital cameras.
How to Find the Best Digital Camera - Home Page
Digital Camera Buyer's Guide and Tips...all you need to know about buying digital cameras in plain English.